After the War of 1812, a steady stream of settlers moved into the area. Most were veterans of the American Revolution or War of 1812 who had converted the 50-acre (200,000 m2) tracts they had received for service in war into deeds around White Oak Flats. Prior to Gatlinburg's incorporation, it was known as White Oak Flats.
Prior to Gatlinburg's incorporation, it was known as White Oak Flats.
Among these early settlers were Timothy Reagan (c. 1750–1830), John Ownby, Jr. (1791–1857), and Henry Bohanon (1760–1842). Their descendants still live in the area today. The original family names of these and previous settlers like Reagan, Crockett, Ownby, Bohanon, McCarter and Huskey and Ogles are still seen on businesses throughout the region as their descendants remain in Gatlinburg.
There is a White Oak Flats Cemetery in Gatlinburg. Go through the Village in downtown Gatlinburg. Go past the bathrooms and past the cement horse.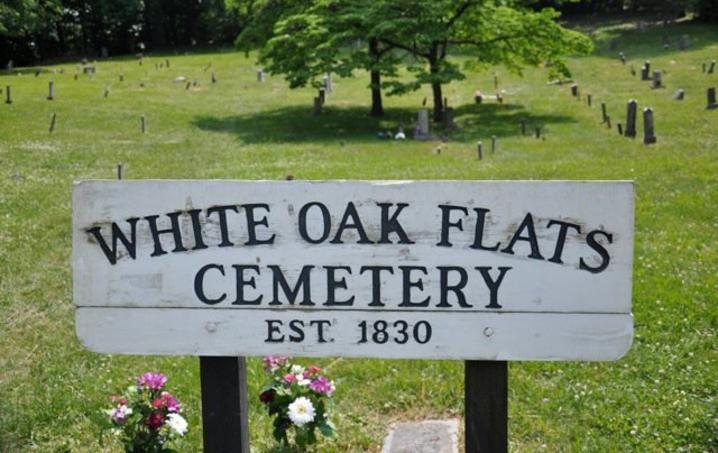 A preacher named Radford Gatlin moved to the area in 1854 and opened the second general store in White Oak Flats, in competition with the Ogle family mercantile. Gatlin lobbied to have a post office opened inside his store. In 1856, a post office was established in the general store of Radford Gatlin (c. 1798–1880), giving the town the name "Gatlinburg." So, Gatlinburg was born. Gatlin, who didn't arrive in the flats until around 1854, constantly bickered with his neighbors. By 1857, a full-blown feud had erupted between the Gatlins and the Ogles, probably over Gatlin's attempts to divert the town's main road. The eve of the U.S. Civil War found Gatlin, who became a Confederate sympathizer, at odds with the residents of the flats, who were mostly pro-Union, and he was forced out in 1859, but his name lives on.
Despite its anti-slavery sentiments, Gatlinburg, like most Smoky Mountain communities, tried to remain neutral during the war. This changed when a company of Confederate Colonel William Holland Thomas' Legion occupied the town to protect the salt peter mines at Alum Cave, near the Tennessee-North Carolina border. Federal forces marched south from Knoxville and Sevierville to drive out Thomas' men, who had built a small fort on Burg Hill. Lucinda Oakley Ogle, whose grandfather witnessed the ensuing skirmish, later recounted her grandfather's recollections:
… he told me about when he was a sixteen year old boy during the Civil War and would hide under a big cliff on Turkey Nest Ridge and watch the Blue Coats ride their horses around the graveyard hill, shooting their cannon toward Burg Hill where the Grey Coats had a fort and would ride their horses around the Burg Hill …
As the Union forces converged on the town, the outnumbered Confederates were forced to retreat across the Smokies to North Carolina. Confederate forces did not return, although sporadic small raids continued until the end of the war.